In business, things don't always go according to plan. As an entrepreneur, the way you handle the unexpected—when a project falls through, when someone makes a mistake, or when your system has a breakdown—plays a huge role in how successful you'll be.
If you become scattered, flustered, stressed, and frustrated, your energy changes, and you hamper your own success.
But when you're able to release any emotional triggers and course correct with calm and confidence, your business grows quickly and efficiently.
Below, we'll cover some scenarios where a breakdown occurs, along with some common, low-vibration reactions. Then, we'll share some tips for keeping your cool even when things heat up.
Breakdown Scenarios
Breakdowns happen all the time. They happen in family life—when each spouse thinks the other spouse is picking up dinner and they both arrive home, empty-handed, or when someone forgets to switch over the laundry.
And they happen in business:
All the links in an email you just sent out are broken.
Your email program glitches and sends out a four-year-old email.
The guest speaker you have lined up for your event gets sick and is forced to back out.
You have a ton to do, and one of your employees wants to have a conversation … and you don't feel like you have time.
Emotionally Triggered Reactions
When breakdowns happen, the worst thing you can do is to react emotionally. Why? Because doing so takes you out of alignment with your vision.
It takes your focus off where it needs to be, which is on how to keep your company moving forward so you can keep hitting your goals.
Emotional triggers can be slippery and difficult to identify. You may not even realize your reactions are emotionally triggered, because you may not recognize the feelings you're having.
If you experience anger, frustration, overwhelm, or lack of clarity, then chances are you're having an emotional reaction.
An emotional reaction may manifest as one of the following:
You yelling at an employee who made a mistake.
You shutting everyone else out, feeling like your work is more important than their questions or the conversations they want to have.
You feeling flustered or scattered or uncertain of what to do.
You feeling like a powerless victim.
Everyone is irritating you.
You're "so busy" you don't have space in your life for the things you say you want to do (like take a vacation or spend time with your family).
The good news is that if you're recognizing some of these behaviors in yourself, you can turn things around. You can learn to react to the unexpected without emotion, which empowers you to stay aligned with your vision.
Reacting Without Emotion
Here are four steps to release your emotional triggers so you can maintain laser-focus on your vision—and make it reality.
Step 1. Set the Vision.
Having a solid, vibrant vision for how you want to grow your business is absolutely critical in how you lead it. When you're focused on your vision, it guides you. Every choice you make and every action you take bring you closer to it.
Step 2. Address the Conversation Without Blame or Guilt.
Once you've identified your vision, you can address conversations about the breakdown with a mind for investigation—finding out what caused the breakdown—rather than blame or guilt.
Step 3. Notice What (and Who) You Allow to Take Your Power.
In many cases, certain people or situations will trigger you, and it's easy to blame those people or situations. But this is hiding behind your own limiting beliefs.
Your ability to master your emotions, including your limiting beliefs, is key in your ability to become the best possible leader of your company.
When you can identify who and what triggers you, you can then dial in on why. Think to yourself, "I had an emotional trigger there. What's that all about?"
Then, you can resolve the trigger on your end by actually confronting the people or situations that take your power.
(A quick example: if there's an item on your to-do list that has you completely overwhelmed, then you're triggered. The absolute best thing to do is knock that item off your list as quickly as possible—get it done! When you do, you'll free up tons of space in your mind and your life because it's been taking up your attention.)
Step 4. Set Your Intentions for Making Today Extraordinary (Every Day).
What can you do, today, to make a positive change in the world? How can you make each day extraordinary? When you set your sights on what you can give, you're less likely to become emotionally triggered.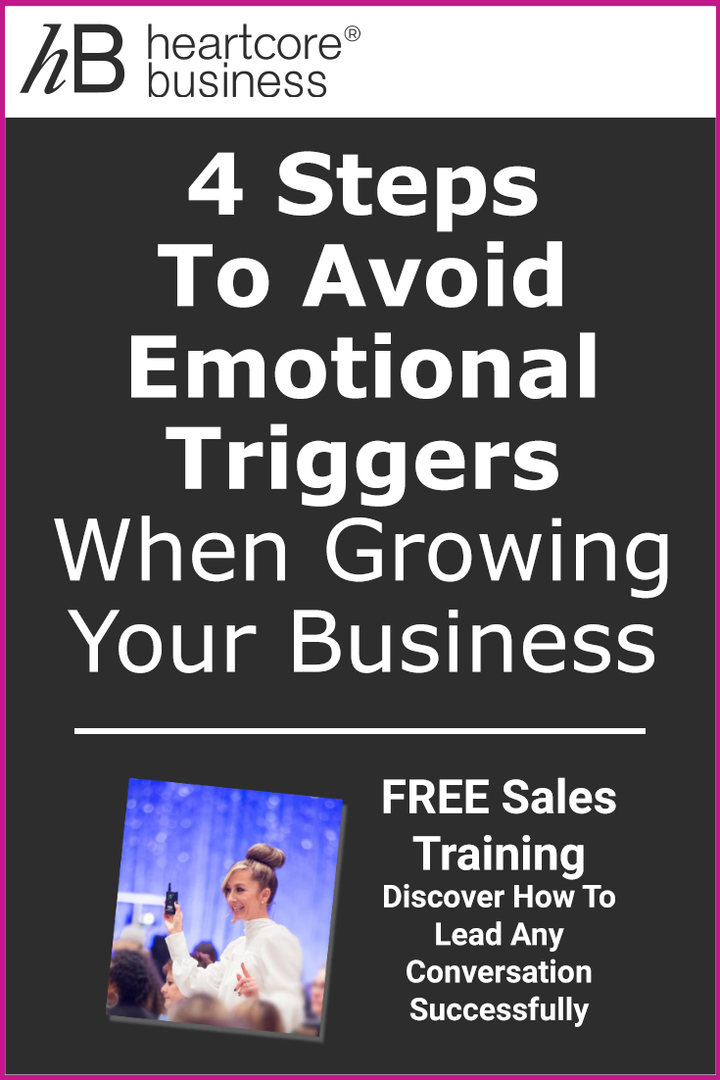 In conclusion …
The game of growth, of reaching your entrepreneurial vision, is to let go of control. And letting go of control means being flexible with breakdowns—your own and those of the other people in your personal and professional life.
Spend your time and your energy focusing on your vision—and you'll make it reality.
How I know you love this post is by responding in the comments. Please do that now!