Are you an entrepreneur looking to build a successful business? If so, it's time to prioritize customer retention. Keeping your existing customers happy makes all the difference in the early stages of your business. In this blog post, we will discuss the importance of customer retention, effective customer retention strategies, and how to implement them in your industry.
Effective Customer Retention Strategies
Don't underestimate the power of customer retention! It can make or break your bottom line. Did you know that keeping your existing customers is 5x cheaper than acquiring new ones? Not only that, but retaining customers can save you money on marketing and advertising costs while increasing revenue. Invest in retention to see your business grow.
Provide Exceptional Customer Service
One of the most effective ways to retain customers is to provide exceptional customer service. Respond to customer inquiries promptly, resolve any issues or complaints quickly, and show appreciation for their loyalty. Having a reliable (CRM) customer relationship management system in place will strengthen your ability to commit to improved customer service.
Offer Loyalty Programs
Want to keep your customers coming back for more? Here's the secret: loyalty programs. By offering discounts, free products, and exclusive access to new services, you'll incentivize customers to stick around. It's totally worth the effort!
Personalize Your Communications
Personalizing your communications with customers can make them feel valued and appreciated. Use their name in your contacts, send personalized offers or recommendations based on their past purchases, and make sure your communications are relevant to their interests. Again, a solid (CRM) system can streamline this process.
Encourage Customer Feedback
Show your customers you care! Encouraging their feedback is a great way to learn how to improve your products or services. Take advantage of their insights and make sure they keep coming back. Show your commitment to providing the best experience possible.
Want Loyal Customers? Build a Brand Community.
Create a sense of belonging for your customers and keep them coming back. Host fun events, give them exclusive access to top-notch content, and make your mark on social media to encourage interaction between your customers and your brand.
Grab your audience's attention by building a community around your brand.
Learn Effective Customer Retention Strategies at List Power Live!
Join List Power Live to discover the secrets of successful customer retention and learn how to implement them. At this interactive live training, you'll gain valuable insights into building a buyer's list and generating cash flow on demand – all without spending a dime on advertising, perfecting your website, or getting lost in social media.
In just three days, Shanda will show you how to take an unconventional approach to building your buyer's list and fostering cash flow, empowering you to reinvest in your business while it grows. Don't miss out on this valuable opportunity to boost your bottom line and take your business to new heights.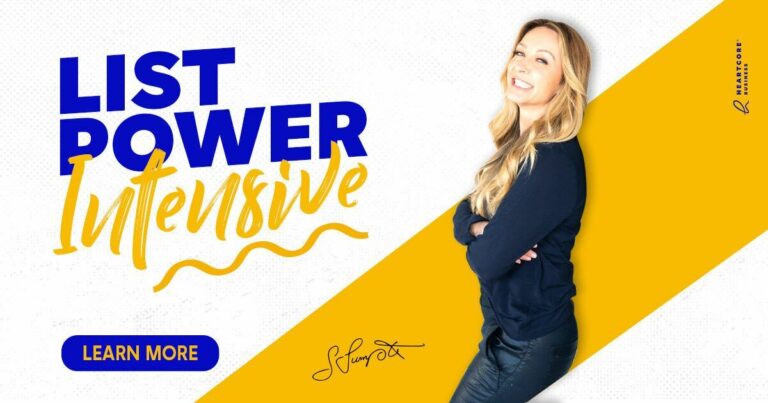 Customer Retention Done Right is Crucial for Success
.
Most up-and-coming entrepreneurs can't afford to try every technique out there. That's why it's important to focus on what works: customer retention strategies. By implementing effective customer retention strategies, you can save money on marketing and advertising costs, increase revenue, and ultimately grow your business. Use the methods outlined above to retain your customers and join List Power Live to learn more about building a buyer's list and creating cash flow on demand. Don't wait; register now, and let List Power Live show you how to tap into the money-making opportunities around you.
About HeartCore: HeartCore Business is a coaching and training company founded by Shanda Sumpter. Our mission is to help entrepreneurs create profitable businesses while living a life they love. Through our proven strategies and systems, we empower our clients to build their brands, attract their ideal clients, and scale their businesses with ease. Join our community of like-minded individuals and take your business to the next level.