Life is 10% what happens to me and
90% of how I react to it.
Charles Swindoll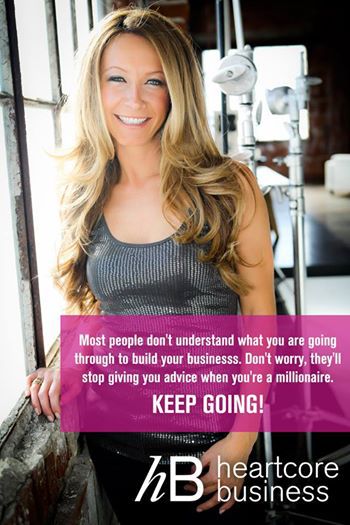 I love the quote above. I just finished doing a training for my community called Business Makeover about how you develop the tenacity to problem solve. It feels SO GOOD that nothing can ever stand in your way again.
Sounds like a dream, right?
Wrong . . . it is 100% possible.
You've just got to be willing to be wrong about your situation some of the time. You've got to allow yourself the chance to fail and know you can get through it. You've got to realize that every time something goes wrong you learn a very valuable skill when you solve that problem.
Let me share something with you.
You are good enough, smart enough, and you don't need more money to do what you want. What you need is a skill called problem solving.
You need to know how to react to what happens to you in a way that serves the life you desire to have.
If you don't believe me- Click here and listen to the Business Makeover training call. It's definitely worth your time!

One of the problems that small business owners who work from home need to overcome is lead generation.
Many times you get stuck behind a computer, and if you are anything like me, when you go out with the girls you don't feel like networking; you feel like drinking wine and eating!
The problem is that you need a consistent flow of new subscribers added to your list, coming to your blog and raising their hand to work with you.
My TIP for you this month is to play around with MOMMY BLOGGER sites.
Mommy Bloggers are heavy traffic blogs, and that's a great resource for you to tap into.
What to do?
#1 Google TOP 50 Mommy Blogger sites and get a list
#2 Find three Mommy Blogger sites that resonate with your product.
For instance, there are mommy bloggers who work from home. There are mommy bloggers around nutrition.
The list goes on. Take out a Banner Ad on your favorite three mommy blogger sites. They are anywhere from $25 dollars a month to $300, depending on the site.
#3 Get a good copywriter to write a short, to-the-point headline with a call to action for your free book. Give away a past training, recording, teleclass, or ebook—something short and valuable. When they click the ad, they get sent to your free product. This ad won't be expensive to get a copywriter to do. It's a headline, for gosh sakes, not a full sales page. Go invest!
#4 Have a graphic design person take that copy-written headline and put it on a great picture. Or go buy a good photo on ISTOCK.com. Make sure the headline is EASY to read.
#5 Hyperlink the picture with a tracking link so you can track how much traffic you are getting from each mommy blogger site.
Implement this strategy. It's good and it's worth your time to master. I know business owners building 500 to 3000 new names a month coming from banner ads on mommy blogger sites. Totally worth your time to master.
Talk soon, and please leave a comment below!