From time to time, we believe it's a great idea to give ourselves a friendly reminder about the important lessons we've learned when it comes to business building. Many of Shanda Sumpter's tips relate to cultivating your inner leadership—and today, we're recapping some of our favorites.
A new article just came out called "Adapt or Die," sharing that new data is showing that we will be at a 50% SKILL SET deficit in only two years, by 2020.
That means either your audience will not have the money to invest with you—hence you'll be out of business—or you'll listen to my coaching and set yourself up to lead them to whatever destination they need in their life right now.
Fix their marriages, give them career coaching, free them from addiction . . .
. . . you have the opportunity to LEAD or die.
Read this article and leave a comment below!!
1. Hire a coach who won't let you cop out.
A coach's job is to stand for your vision, even (and especially) when you're struggling with self-confidence, fear, or second-guessing yourself. Your coach should be able to say, "This is possible for you, and it's what you committed to" and push you to follow his or her advice all the way through to the end—to the result you're striving toward. Essentially you get to stay in the FIRE until you get your results. Far too many people skip around on new ideas chasing FAME versus FORTUNE!
2. Finish what you start.
If you have a pattern of not finishing what you start—not following through on your commitments to yourself—you've got to break that and create a new pattern of finishing every single thing you start. If you commit to attending an event and something "comes up," like your dog is sick or you're out of money or you just don't feel like going . . . and this happens time and time again in your life, it's a pattern.
Do whatever it takes to keep your word to yourself. Every time you don't keep your word to yourself, you deplete your ability to hit the next big goal.
3. Stop being consumed with your own needs, and focus on what you can give to others.
When you're hyper-focused on your own needs, then you can't serve the people you're here to serve. And if you're not serving, you're never going to reach your own goals or truly help people or change their world. When we're consumed with ourselves, we reduce our own energy. Therefore, things are hard, and that costs us money. When you're operating from a place of generosity, you stop worrying about getting things perfect, you stop exhausting yourself with how you do it—and you start getting things DONE. And that equates to you making money!
HINT: If most of your struggles in a day are around figuring out something, you're inward thinking. STOP. You know how to help people. Practice LISTENING to them. Go on Facebook today and focus on reading, listening, and offering up helpful resources. Help 5 people today!
4. Focus on the step you're in.
As entrepreneurs, we're all prone to a little "shiny object syndrome"—where we feel like we have to do all of these things in order to grow our businesses. So, when we sit down to complete one task, we often get distracted consuming Facebook posts or wasting time. STOP CONSUMING OTHER PEOPLE'S CONTENT ONLINE. Get out of being an observer, and start creating your own content. The only way to learn is to be OK with sucking at it at first until you get better. If you never get started, you'll never lead from the top!
So, in every moment, focus on the step you're in.
5. Remember, everything can change in a single day.
You never know which business strategy is going to completely supercharge your results. So don't hold back when it comes to trying new strategies. Shanda Sumpter, HeartCore Business™ founder and queen visionary, recently shared two stories about quick coaching sessions she offered that provided clients with awesome results.
One was a 10-minute session where she jumped onto one of her coaching team member's calls. She overheard what her team member was discussing with the client, and she quickly gave the client an email strategy to use to get four new clients—which would result in $50,000. With 10 minutes of coaching, she helped the client bring in that $50,000!
The second session took place when she met a friend for coffee. In 20 minutes, she'd given him a strategy to run a two-day event. Despite his own nerves about creating an event, he did it. He made 6 figures and now is obsessed with a strategy he initially wasn't sure about because of fear.
Don't let fear get in the way. We never have enough of anything we need before we quantum leap our results. If you want to speak to one of my strategy coaches, you can get on their calendar here. Don't get discouraged if all the spots are full. Keep checking back until you get one.
6. Roll with the imperfections.
Life is imperfect all the time!
You've got to learn how to roll with it. When your dream is on the line, you have to do what it takes, even when life throws you curveballs. Unhook from the thoughts that stop you from reaching your true potential, from living your true purpose—which is to help more people.
In conclusion . . .
All the tips up to this point have one thing in common: they're about managing your mind, cultivating your inner leadership. You've got to lead yourself to success. Even when you find a coach, you've got to lead yourself in following his or her advice—you're the only one who can create the success you dream of.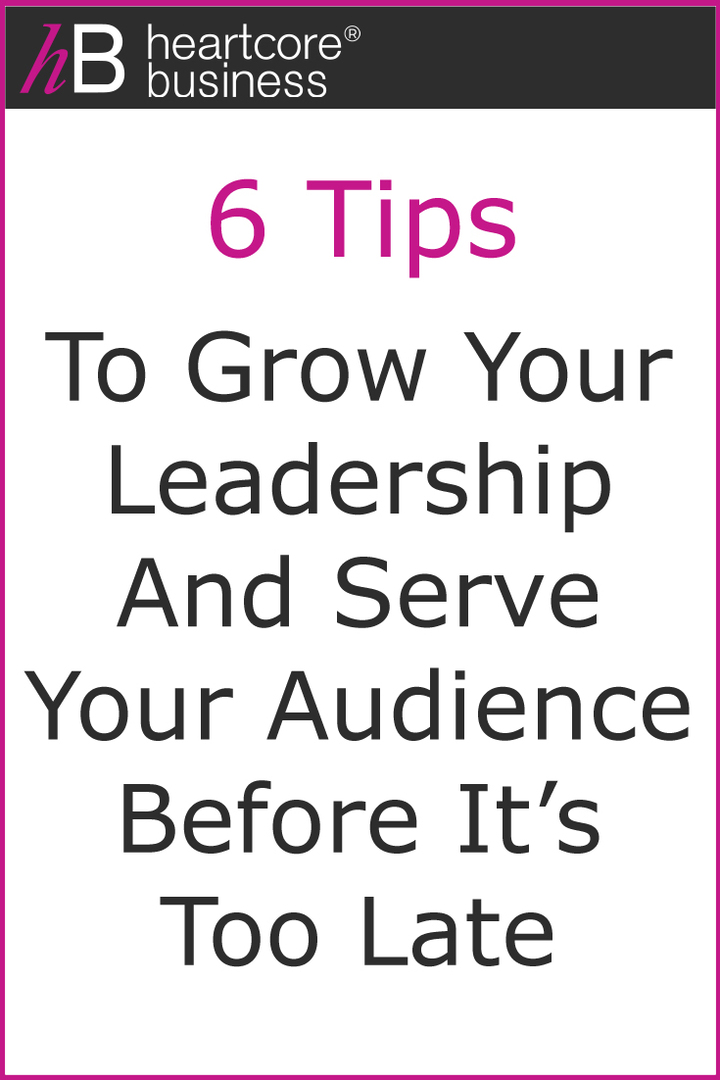 Shanda would love to hear from you!
In the comments below, post one promise you're going to make to yourself after reading this article.